Open-mouth bagging machinery
Are you looking for an open-mouth bagging machine to replace your current machinery or to expand your packaging line? With the bagging machinery from Arodo, you can pack all your powdery products with maximum efficiency. Our many years of experience enable us to develop optimal packaging processes for every product and application.
You can choose from packaging machinery for open-mouth bags made of either plastic or paper, which we can seal using different methods. These can be closed in a variety of ways (also hermetically sealed). We use a range of techniques to remove residual air: from mechanical systems and our advanced vacuum technology and combined solutions. You then choose the dosing system that best suits your product.
Nowhere else will you find so many options and the expertise to build the optimum open-mouth bagging machine for your business.
Maximum protection,
carefree transportation
Packaging powders difficult to deaerate is a knowledge-intensive discipline, especially if the packaging needs to be tightly sealed. It is with that goal in mind that we developed the AROVAC® technology. With AROVAC®, you benefit from maximum protection and carefree transportation of your product.
The bagging machines of Arodo are the only ones in the world capable of packaging powders, so they are fully airtight and perfectly stackable. The more complex the properties of your powder are, the more you benefit from this unique technology.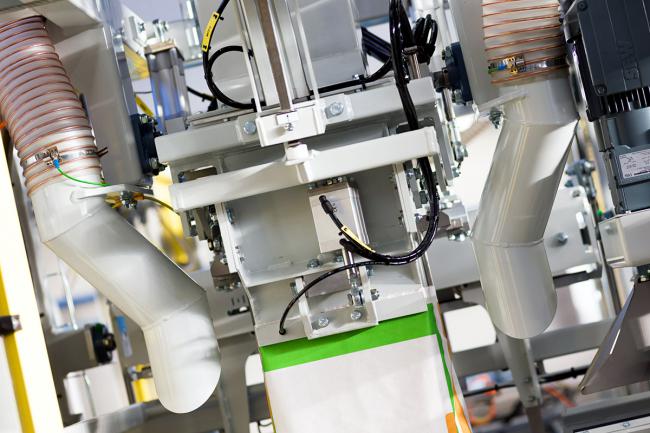 Efficient process
Countless variables to perfectly match your process
Easy operation
Simple, ergonomic and above all safe to operate
Cost-effective
Less wastage thanks to highly accurate filling process
Reliable
Maintenance-friendly and high uptime percentage
Tailor-made bagging machines
We develop customized open-mouth bagging machines for each individual customer. For the best results, we look at different variables such as the complexity of the powder, processing capacity, bag type, and closure system.
Would you like to know more about the options for your open-mouth bagging machine? Click below for a list of the key features and specifications.